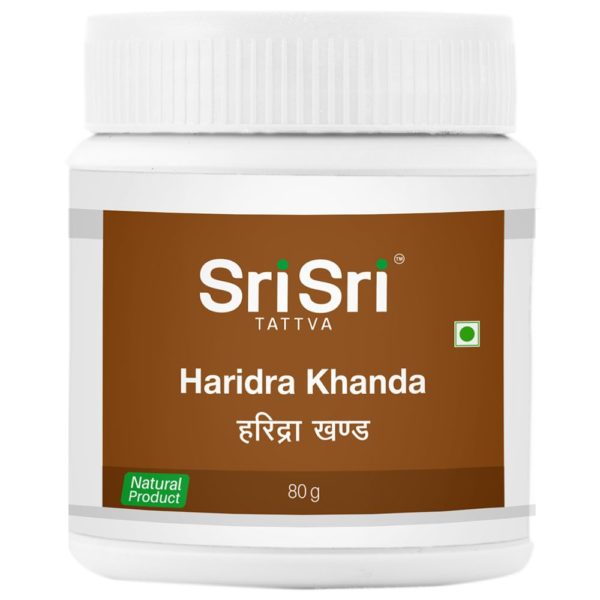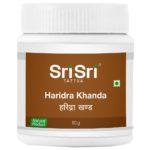 Sri Sri Tattva Haridra Khanda 80gm
---
₹ 95.00
Product Description
Sri Sri Tattva Haridra Khanda

Pack Size : 80gm
Haridra Khand is a very famous and highly effective Ayurvedic Product for allergy. It is in granules form. Its main ingredient is Haridra – turmeric. It is also known as Haridra Khand, Haridra Khandam.
Haridra Khand benefits: 
It is used widely in the treatment of allergic skin diseases, itching skin diseases. It improves skin quality and complexion.
Kandu – itching skin disorders, pruritis
Visphota – blisters
Dadru – fungal skin infections
Sheetapitta, Kotha – allergic skin conditions, hives
Udarda – skin diseases due to skin contact with cold objects
Haridra Khand ingredients:
Turmeric – 384 g
cow ghee – 288 g
milk – 3.072 liters
sugar candy- 2.4 kg
This mixture is heated to prepare a semi solid mass. It is added with below Prakshepa dravya
Trikatu – Pepper, long pepper and ginger – 48 g each
Cinnamon, Cardamom, Patra (Cinnamomum tamala) – 48 g each
Vidanga – Embelia ribes – 48 g
Trivrit – Operculina turpethum – 48 g
Triphala – Haritaki, Vibhitaki and Amla – 48 g each
Nagakeshar – Mesua ferrea – 48 g
Musta – Cyperus rotundus – 48 g
Lauha bhasma – 48 g
Dosage:
3 – 6 g once or two times a day before or after food.
It is usually given along with warm milk or honey.