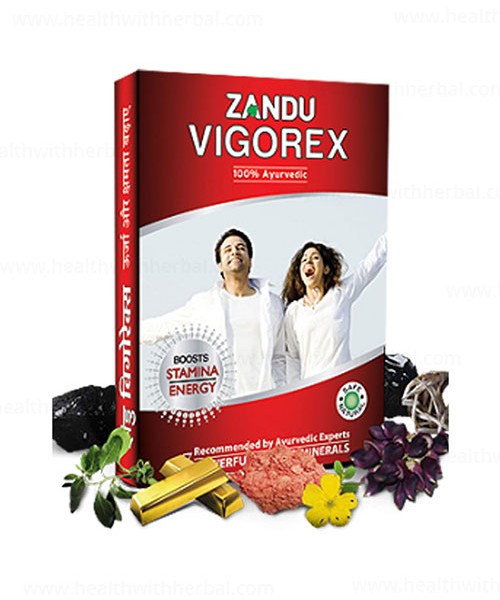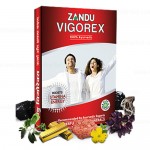 Zandu Vigorex
---
₹ 180.00
Zandu Vigorex is a proven, revolutionary formulation
developed by a Panel of Ayurvedic Experts. Each capsule
is an aggregate of seven powerful herbs & minerals that
revitalize the body & increase stamina. Overall, it is
an 100% safe Ayurvedic Vitalizer which boosts stamina,
energy & enhances mood.
Product Description
100% Safe Ayurvedic Vitality Enhancer
Vigorex Forte cures loss of vitality and sexual weakness.
Increases sexual confidence and sexual performance  both in male and female.
The New & Improved Formula.
Description
Zandu Vigorex is a proven, revolutionary formulation
developed by a Panel of Ayurvedic Experts. Each capsule
is an aggregate of seven powerful herbs & minerals that
revitalize the body & increase stamina. Overall, it is
an 100% safe Ayurvedic Vitalizer which boosts stamina,
energy & enhances mood.
Benefits of Zandu Vigorex Capsules
Effective, Safe, Non-Hormonal Natural Aphrodisiac.
No Cardiovascular Side Effects.
Works On All Age Groups.
Corrects Premature Ejaculation.
Helps To Overcome Erectile Dysfunction (ED)
Indications
Functional Impotence
Depressed Libido
Premature Ejaculation
Unsatisfactory Sexual Performance
Sexual Neurasthenia
Loss Of Vitality
Sexual Weakness In Elderly People
Composition
Each Capsule contain:
Kaunch Beej Extract (Cowhage / Cow Itch / Kapikachhu)
Safed Musali Extract (Chlorophytum borivilianum)
Gokshur Extract
Ashwagandha Extract (Withania somnifera)
Shilajit
Jaiphal Extract (Nutmeg)
Yashad Bhasma
Abhrak Bhasma
Praval Bhasma
Shuddha Karpur
Swarna Bhasma
Excipients Q.S.
Approved colour used in capsule shell.
Preservative: Sodium Benzoate.
Dosage
1 Capsule twice a day, preferably with milk or as directed by the physician. For best results, use consistently & experience progressive long-lasting overall health benefits.
Disclaimer:
Duration of treatment and onset of action with the medicines depends on various factors like severity & symptoms of disease, age & physical conditions of the patient etc. Please contact your Ayurvedic Physician for more information.