Sale!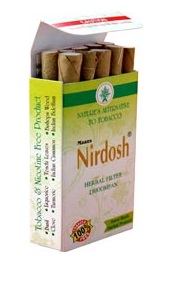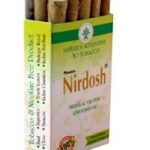 Nirdosh Herbal Cigarettes
---
₹ 600.00
Product Description
Nirdosh Herbal Cigarettes
Pack  Size : 10 packs of 10 Smokes ( Total 100 Smokes)
Description
"Clarity of mind, throat, chest and sense organs and lightness of head are features of correct smoking" based on Charak Samhita (Ancient Ayurvedic Text)
Nirdosh is truly a herbal product where each cigarette is hand made according to a 5000 year old Ayurvedic formula. All of the herbs contained in Nirdosh are used therapeutically. The herbs have been chosen for detoxification of the lungs, stimulation of digestion and for a calming, nervine action that helps relax the mind. Nirdosh can be used to Quit Smoking Tobacco or it can be smoked for its own sake.
Ingredients
Basil, Clove, Liquorice, Turmeric, Gangal, Tendu leaf, Indian Cinnamon, Bishops Weed and Indian Bedellium.
Disclaimer
Use 1 smoke in 4 hours.
This product is NOT intended for minors.