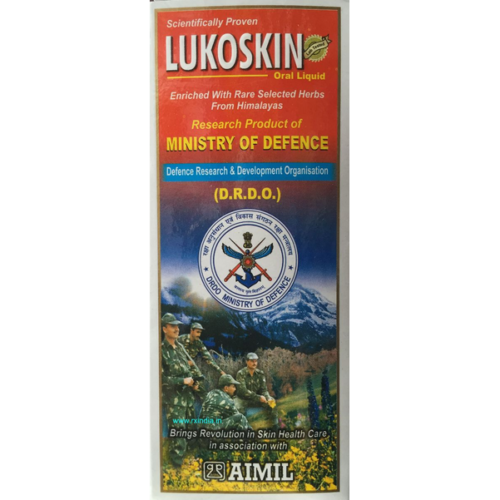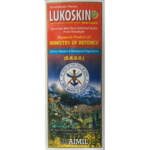 Aimil Lukoskin Herbal Syrup
---
₹ 458.00
Product Description
AIMIL LUKOSKIN HERBAL SYRUP
Pack Size:- 100ml
Description
Vitiligo or Leucoderma is an idiopathic acquired disorder of skin, which causes pigmentary disfigurement mostly in dark skinned individuals. Taking into the consideration of this disease, scientist of Defence Agriculture Research laboratory (DARL) has developed Lukoskin, a patented and proprietary herbal formulation meant to treat Leucoderma or Safed Daag. Lukoskin is a comprehensive, effective and competively safe Ayurvedic treatment for Safed Daag.
Overview of major actions of Lukoskin:
Skin Photo-sensitizer
Stimulates Melanin synthesis
Anti-blister
Anti-irritation
Improves auto-immune system
Checks secondary infections
Herb Highlights
Ammi majus : The seed contains furanocoumarins (including bergapten), which stimulate pigment production in skin that is exposed to bright sunlight.
Psoralea corylifolia: Skin Photo sensitizer Babachi botanically known as Psoralea corylifolia grows as weed. Since generations, it is in use as folk medicine in India.
Calotropis gigantia – This large shrub, which looks like a small tree, sports clusters of waxy flowers that are either white or lavender in color.
Aloe vera- It is stem less or has a short – stemmed plant which can produce up to a height of about 80 cm to 100 cm that spreads for root sprouts and balancing.
Centella asiatica -The whole plant is alterative, cardio-depressant, hypotensive, weakly sedative and tonic.
Benefits:
Activates Melanin Synthesis
Exerts Photosensitisation
Enhances Blister Healing
Modulates Immunity
Reduce Stress
Regulates Metabolism
Dual Therapy of Lukoskin
Oral liquid and ointment together provide a comprehensive and effective treatment for Leucoderma (Safed Daag).
Lukoskin Oral Liquid
Dosage
Adults : 1 to 2 ml. Or 20 to 40 drops diluted in a cup of water twice or thrice a day.
Children : 1/s ml. Or 10 to 20 drops diluted in a cup of water twice or thrice a day.