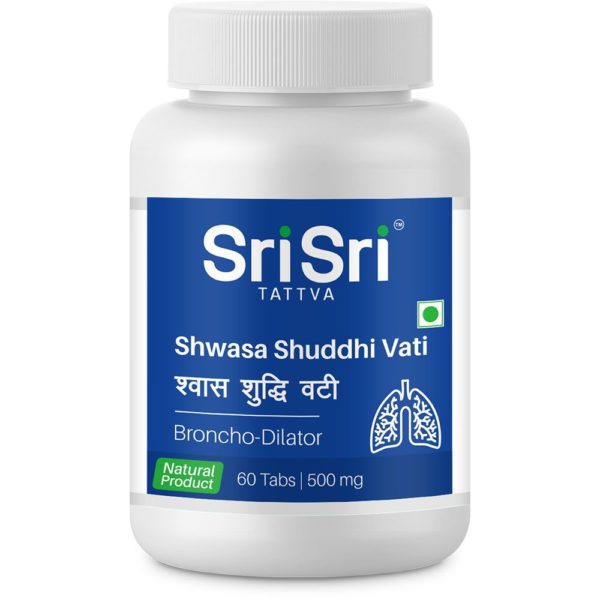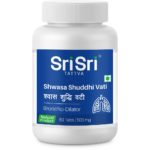 Sri Sri Tattva Shwasa Shuddhi Vati 60 Tablets
---
₹ 110.00
Product Description
Sri Sri Tattva Shwasa Shuddhi Vati Tablets
Packe Size: 60Tabs
Sri Sri Tattva Shwasa Shuddhi Vati is an Ayurvedic Product for the protection and healthy working of respiratory system. Various herbs present in it cleanse the bronchial tree by scraping off the excessive, unwanted mucosal secretions that blocks the airway as a result of exposure to allergens, pollutants or infections. These also acts as a potent broncho-dilator and helps in preventing asthmatic conditions. It is indicated in dyspnoea, cough, and rhinitis.
Ingredient :
Sati, Bala, Kantakari, Gokshura, Pippali, Shunti, Bharangi, Bilwa, Pushkarmoola, Karkatakashrungi, Jeeraka, Vasaka, Yashtimadhu, Abhrakabhasma.
Indication :
It acts as a potent Broncho-dilater which helps to prevent Asthmatic conditions, used in the treatment of dyspnoea, cough, rhinitis. It helps to protect the respiratory system by preventing excessive unwanted mucosal exposure to allergens, pollutants or infections.
Directions of Use:
Adults- 2 tablet twice a day before food.
Children- 1 tablet thrice a day before food.