Sale!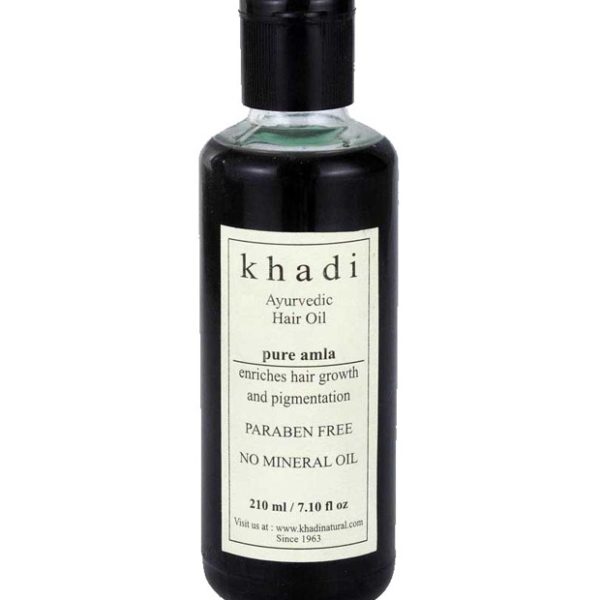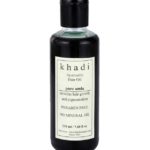 Khadi Natural Pure Amla Hair Oil 210ml
---
₹ 350.00
Product Description
Khadi Natural Pure Amla Hair Oil
Pack Size: 210ml / 7.10fl oz.
Description
Pure Amla Oil the richness of the organic ingredients allows the oil to soak deep into the root of the hair follicle to strengthen it, thus boosting hair growth while maintaining your hair's natural health. Ideal for both men and women, whose premature greying, thinning, and damaged hairs.
Ingredients: Sunflower oil (Helianthus Annuus), Sesame oil (Sesamum Indicum), Almond oil (Prunus amygdalus), Amla (emblica officinalis), Wheatgerm oil (Triticum Vulgare), Grapeseed oil (Vitis Vinifera), Brahmi (Bacopa monnieri), Nagarmotha (Cyperus rotundus), Lodhra (Symplocos Racemos), Neem oil (Azadirachta Indica), Henna oil (Lawsonia inermis), Camphor oil (Cinnamomum Camphora), Basil oil (Ocimum Basilicum)
Benefits: Anti Hairfall
Instruction of use: Part your hair and apply oil all over the scalp. Massage the scalp gently with fingers in a circular motion so that the oil gradually gets absorbed into the scalp. Leave for an hour or more before washing. Keeping it overnight is also very beneficial.