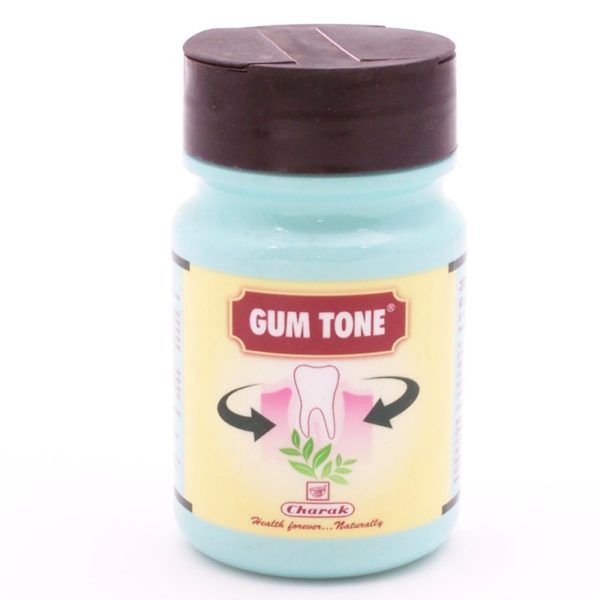 Charak Gum Tone Powder
---
₹ 55.00
Product Description
Pack Size : 40 Gm Powder
Benefits
It prevents formation of dental plaque on regular use.
It provides fresh breath and prevents halitosis
Free from tobacco and sugar.
Removes the stains on the teeth
Indications
Bleeding, Spongy and Painful Gums (Gingivitis),Prevention of plaque formation and dental caries,Halitosis (Bad breath),Post scalinq to reduce dental pockets
Usage
Massage 2-3 gms of gum tone powder with soft brush or finger on gums and teeth.
It kept for 2-3 minutes in the morning and after dinner.
Ingredients
Babbul(Acacia Arabica),Vajradanti(Barleria prionitis), Bakul(Mimusops elengi),Khadir(Acacia catechu), Badam(Prunus amygdalus),Amalaki(Emblica officinalis),Bibhitaki(Terminaliabelerica),Haritaki(Terminaliachebula),Nirgundi(Vitexnegundo),SaindhavKaiphal(Myricanagi),Mayaphal(Quercusinfectoria),Karpoor(Camphoraofficinarum,Phitkarishuddha(PurifiedAlum),Neem(Meliaazadirachta),Lavang(Caryophyllusaromaticus),Kankola(Piper cubeba),Twak(Cinnamomum cassia),Nagkeshar(Mesua ferrea),Vidang(Embelia ribes)