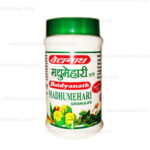 Baidyanath Madhumehari Granules
---
₹ 14.45
Product Description
Baidyanath Madhumehari Granules
Excellent remedy to relieve Frequent urination, Dryness of mouth, Numbness debility, fatigue, Excessive Thirst etc. Associated with increased blood sugar. Indicated in diabetis, control urine sugar and blood sugar, Nephritis, excessive urination.
Ingredients:
Each 100 g. Contains gudmar (gymnema sylvestre)-20gms.

Jamun guthali (syzygium cumini)-8 g

Gulvel (Tinospora cordifolia)-10g.

Kkarela Beej (Momordia charantia)

Khadir Chuma (Acacla Catechu)

Haldi (Curcuma Longa)

Amia (Emblica-officinalis)

vijay-sar (Pterocarpus Marsupium)

Tejpatra (cinnamomum-Tamala)

Shilajit(Asphaltum) – 5g

Gularphal Chuma (Ficus Glomerata)

Kutki (Picrorhiza Kurroa)

Chitrak (plumbago Zeylanica) – 4 g each

Methi (Trigonella-foenum graecum) – 3 gms.

Bhavna of Neem Patti (Azadirachta – Indica)

Bilwa Patra (Aegle Marmelos)- 5g.each

Trivang Bhasma – 2 g.

Insert and safe Exciepients

Babool Goand as a Binder-q.s.
Dosage:
Teaspoonful twice a day with water 10 min Before meals or as advised by the physician.