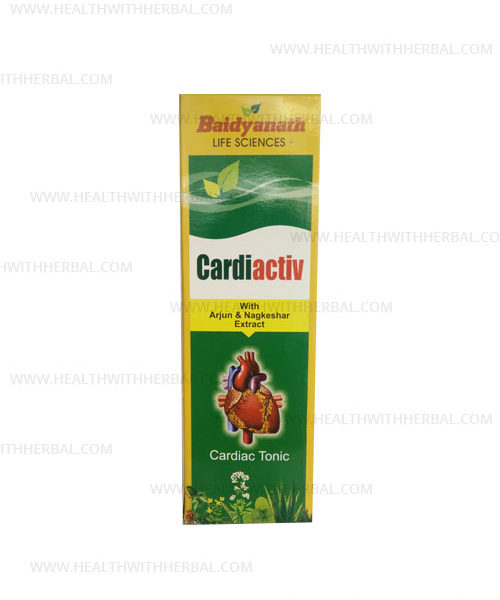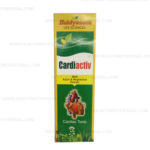 Baidyanath Cardiactiv
---
₹ 26.45 – ₹ 61.95
Product Description
Baidyanath Cardiactiv (Cardiac Tonic)
Ayurvedic Proprietary Medicine. Safe and Harmless Herbal Medicine.
Today's stressful lifestyle, lack of physical exercise and high fat diet are increasing the incidence of coronary arterial diseases and heart attacks.
Cardiactiv is a cardiac tonic beneficial for smokers, obese persons and those having a family history of cardiac problems.
Cardiactiv formula is rejuvenating combination of herbs known to promote proper function of the heart.
As an Cardiac Tonic it nourishes and streghtens the heart muscles thereby stimulating the blood circulation and allowing an increase of oxygen flow to the heart.
Major ingredients of Baidyanath cardiactiv :
Arjuna (Terminalia Arjuna)
Excellent remedy for heart.
Effective in imparting stength to heart muscles.
It is clinically shown to support healthy level of three blood lipids LDL, High density lipoprotein HDL and Triglycerides.
The Valuable herb'Arjun' is known as a excellent remedy for heart diseases from ancient time.
The formulation of Cardi Activ is the blend of Arjun, Vidarikand, Kamalphul, Nagkeshar which promotes healthy cholesterol level, Thus reduces the risk of arteriosclerosis and coronary heart diseases.
Nagkeshar (Musea Ferrea)
Imparts strength to the heart.
Indications for use of Baidyanath cardiactiv :
Tones up the function of the heart.
Helps to promote healthy cholesterol and triglycerides levels and Supports proper function of circulatory system.
Beneficial for everyone, especially for those who lead a stressful lifestyle or have a family history of coronary heart diseases.
Relieves anxiety, excessive sweating, increased palpitation, obstruction of blood vessels etc.
Provides good nutrition to heart.
Helps to give the sense of well-being.
Dose of Baidyanath Cardiactiv Liquid
2 teaspoonful twice a day with equal quantity water after meal.
Composition of Baidyanath cardiactiv
Each 10ml contains
Arjun Chhal (Terminalia arjun) – 2g
Shatavari (Asparagus racemosus) – 135mg
Balapanchang (Sida cordifolia) – 135mg
Vidarikand (Pueraria tuberosa) – 135mg
Munnukka (Vitis Vinifera) – 135mg
Vayvindang (Embelia ribes) – 135mg
Dhaiphool (Wood fordia fruitcosa) – 160mg
Tejpatta (Cinnamomum tamala) – 10mg
Dhaniya (Coriandrum Sativam) – 10mg
Jira Safed (Cuminum cyminum) – 10mg
Nagarmotha (Cyperus rotundus) – 10mg
Kamalphool (Nymphia stelleta) – 10mg
Semal musali (Bombax malbaricum) – 10mg
Gokharu (Tribulus terrestris) – 10mg
Punarnava (Boerhavia diffusa) – 10mg
Choti Elaichi (Ellateria cardimomum) – 10mg
Nagkeshar (Mesua ferra) – 10mg
Harad (Terminalia chebula) – 10mg
Asava Base – Q.S.
Additional Information
| | |
| --- | --- |
| Quantity | 200ml, 400ml (2 x 200ml), 800ml (4 x 200ml) |