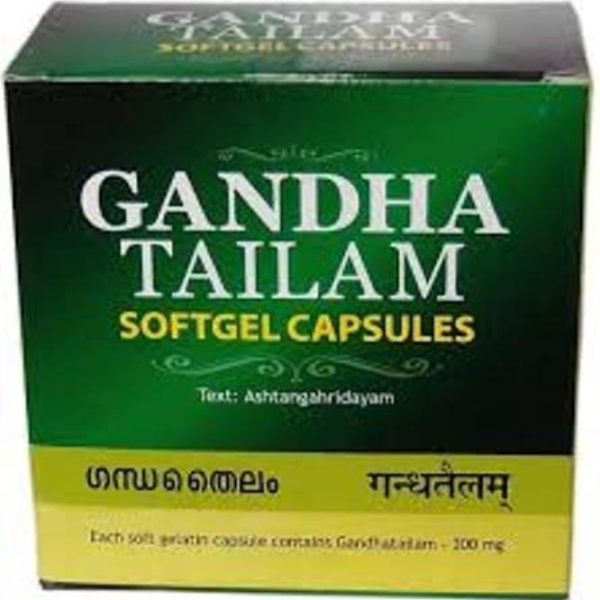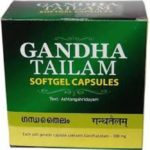 Ayurvedic Gandha Tailam Softgel Capsules
---
₹ 410.00
Product Description
Pack Size: 100 Capsules
 Description:
Gandha Thailam is a famous Ayurvedic medicine used in treatment of Arthritis, fractured bones and weak bones. It is taken internally. Gandha Thailam capsules are also available, which helps in easy oral administration.
Gandha Thailam Benefits: 
It is mainly targeted towards improving bone mass and strength.
It is useful in the treatment of arthritis, osteoporosis, Fracture, dislocation.
It helps to improve strength of bones, joints and ligaments.
It is also used in the treatment of ligament injuries.
Gandha Tailam Ingredients: 
Sesame seeds – Sesamum indicum
Cow Milk
Madhuka – Licorice – Glyzyrrhiza glabra
Nalada – Vetiveria zizanioides
Valaka – Coleus vettiveroides
Lohitayashtika – Robia cordifolia
Nakha – Naguna (?)
Mishi – Anethum sowa
Plava – Cyperus rotundus
Kushta – Saussurea lappa
Balatraya -Bala – Sida cordifolia
Atibala – Abutilon indicum
Mahabala – Grewia populifolia
Aguru – Aquilaria agallocha
Kumkuma – Crocus sativus
Chandana – Sandalwood – Santalum album
Sariva – Hemidesmus indicus
Sarala – Pinus roxburghii
Sarjarasa – Vateria indica
Maradaru – Cedrus deodara
Padmakadi Gana – Group of herbs explained as Padmakadi Gana
Eladi Gana  – Group of herbs explained as Eladi group
Shaileya – Parmelia perlata
Rasna – Pluchea lanceolata
Amshumati – Desmodium gangeticum
Kaseruka – Scirpus grossus
Kalanusari – Polyalthia longifolia
Nata – Lobelia nicotianaefolia
Patra – Cinnamomum tamala
Rodhra – Symolocos racemosa
Ksheerashukla – Kakoli – Roscoea purpurea
Durva – Cynodon dactylon