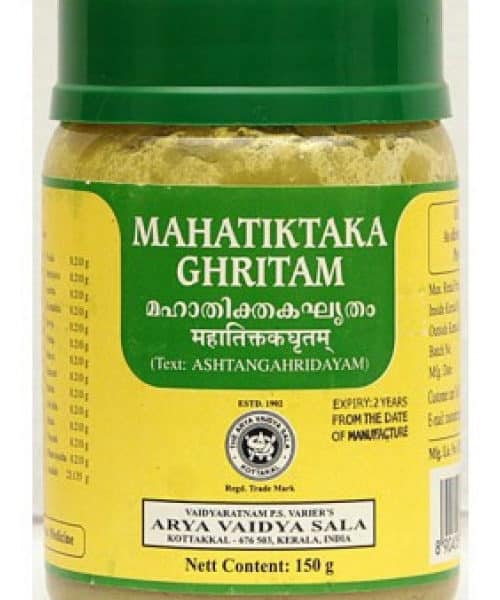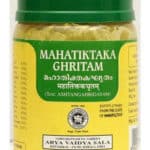 Arya Vaidya Sala Mahatiktaka Ghritam
---
₹ 175.00
Product Description
Arya Vaidya Sala Mahatiktaka Ghritam
Pack size: 150gm
Mahatiktaka Ghrita is a herbal medicated ghee formulation.
Its usage:
It is used as product and also in preparatory procedure called snehakarma for the treatment of , bleeding disorder.
Bleeding piles, herpes, gastritis, gout, anemia, blisters, schizophrenia, jaundice, fever, heart diseases, menorrhagia. It is highly effective in chronic diseases.
Dosage:
1/4-1/2tsf by hot-warm water.
Mahatiktaka Ghrita Ingredients:
6 gram of each of
Saptaparna – Alstonia scholaris
Ativisha – Aconitum heterophyllum
Shampaka – Cassia fistula
Tiktarohini – Picrorhiza kurroa
Patha – Cyclea peltata / Cissampelos pariera
Musta – Cyperus rotundus
Ushira – Vetiveria zizanioides
Triphala – Haritaki – Terminalia chebula, Vibhitaki – Terminalia bellirica, Amla – Emblica officinalis
Patola – Trichosanthes dioica
Pichumarda – Neem
Parpataka – Fumaria indica
Dhanvayasa – Alhagi pseudalhagi
Chandana – Sandalwood
Pippali – Long pepper
Gajapippali – Piper chaba
Padmaka – Prunus poddum
Haridra – Turmeric