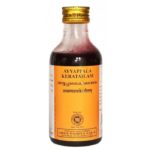 Arya Vaidya Sala Ayyappala Kera Tailam
---
₹ 119.00
Product Description
Arya Vaidya Sala Ayyappala Kera Tailam
Pack Size:-200ml
Ayyapala Keratailam is an Ayurvedic herbal oil used for the treatment of psoriasis, dermatitis, etc.
Uses of Ayyappala Keratailam:
Very effective in psoriasis.
Also effective in other skin diseases and dandruff.
Chronic exfoliating dermatitis.
Allergic dermatitis, dermatophytosis
Eczema, fungal infections.
Ingredients of Ayyappala Keratailam:
Kera taila – coconut oil
Shweta kutaja – Wrightia tinctoria
Nimba – neem – Azadirachta indica
Direction for use
Apply over the affected part or throughout the body for half an hour to one hour. Wash off with hot water after an hour.