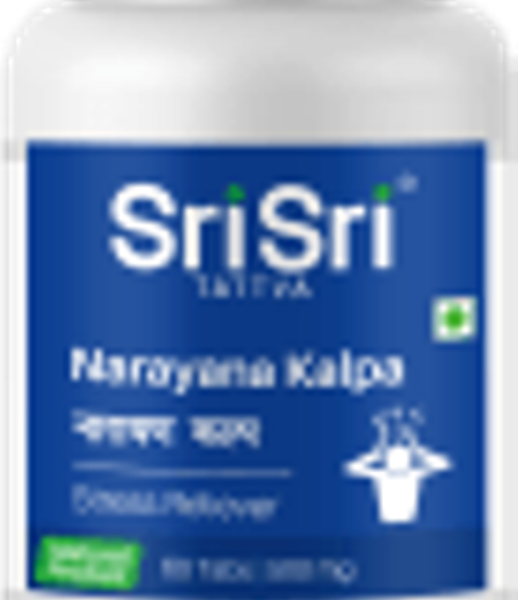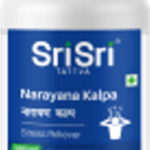 Sri Sri Tattva Narayana Kalpa Tablets
---
₹ 140.00
Product Description
Sri Sri Tattva Narayana Kalpa Tablets

Pack Size: 60 Tablets
Narayana Kalpa is proprietary Product from Sri Sri Tattva. It is combination of  Product herbs and used in management of anxiety, depression, insomnia, stress, restlessness and similar conditions.
Ingredients:–
Shankhpushpi Convolvulus pluricaulis 60 mg
Yashtimadhu Glycyrrhiza glabra   60 mg
Jatamansi Nardostachys jatamansi   50 mg
Shatavari Asparagus racemosus  50 mg
Bala Sida cordifolia   50 mg
Brahmi Bacopa monnieri   50 mg
Amla  Emblica Officinalis  40 mg
Malkangani Celastrus paniculatus   30 mg
Ajwain Trachyspermum ammi   20 mg
Sonth Zingiber officinale   20 mg
Potassium Sorbate     1.2 mg
Sodium Benzoate   0.6 mg
Excipients     Q.S.
Benefits :-
It gives alertness and sharpness to mind.
It gives relief in mental and physical fatigue.
It reduces mild hypertension.
It reduces stress and distraction.
It improves mental functions and mental quotient.
It is a mood stabilizer.
It has no side effect.
Dosage :-
The recommended dosage of medicine is 1 to 2 tablets.
It should be taken twice a day, in the morning and evening.
It is to be taken with water.